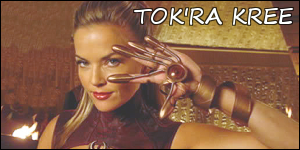 There is still almost a month left of prompt claiming for the Tok'ra Kree! fanworks challenge.
Go here to claim a prompt if you haven't already (or if you feel like claiming another):
DW
|
LJ

All sorts of fanwork equally welcome, as long as there is some focus on the Tok'ra from Stargate SG-1.
Note that the fanwork does
not
have to (only or at all) use characters from SG-1 - SGA and SGU, as well as crossovers are equally welcome. OC Tok'ra are very welcome as well.
Fics just need to be 500 words or more!
Art could be


1 banner, which should be at least: 500x150.
1 large piece of art, at least 600x400.
1 picspam containing at least 20 pics.
1 iconset or gifset, containing at least 5 icons/gifs.
1 comic, which should be finished/have a finished story.

Vids should be at least 30 seconds.
For anyone who wants to create icons, wallpapers, banners, manips, etc. for the challenge, you can download screencaps for all episodes in seasons 1 through 5. Links to downloads can be found at the bottom of this page:
http://tokra-kree.livejournal.com/20902.html
The same page has a list of episodes with Tok'ra, and links to screencaps of those specific episodes.
CLAIM CLAIM CLAIM a prompt, and have fun creating something awesome!
roeskva
Latest Month
July 2018
S
M
T
W
T
F
S
1
2
3
4
5
6
7
8
9
10
11
12
13
14
15
16
17
18
19
20
21
22
23
24
25
26
27
28
29
30
31