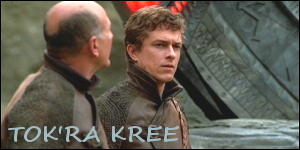 FAQ (
LJ
//
DW
) || Schedule (
LJ
//
DW
) || Claiming (
LJ
//
DW
)
There is still more than two weeks left to claim a prompt, and more than a month left to create something for Tok'ra Kree! round 6!
Only 3 people have claimed a prompt so far, so it would be great to have more participants!

Tok'ra Kree!
is a Stargate (SG-1, Atlantis, Universe, the movies) challenge community, centered on the Tok'ra from Stargate SG-1.
This means that one or more Tok'ra should play a major part in the fanwork and not just be there as a convenient source of information, a way to get a spaceship, someone to blame, or similar. They do not, however, have to be one of the main character(s).
We welcome all kinds of multimedia, including fiction, artwork, videoes, and podfic. Fanwork can be gen or any pairing(s). Het, slash, femslash, poly, etc. are all welcome. Crossovers are welcome too!
Tags:
roeskva
Latest Month
July 2018
S
M
T
W
T
F
S
1
2
3
4
5
6
7
8
9
10
11
12
13
14
15
16
17
18
19
20
21
22
23
24
25
26
27
28
29
30
31