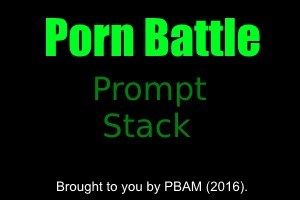 What is a Prompt Stack?
At </a></b></a>
pbam
, they've been going off the same batch of prompts for a while now, and now it's time for some new ones, pretty much in the style of a traditional Porn Battle. What that means is that there's going to be about about
a week of prompting,
followed by a week of posting.
Standard Porn Battle
rules
apply for prompting, posting, etc.
It's only on Dreamwidth, but posting can be done with OpenID too.
The dates to remember:
Prompting Starts: Sunday, March 13, 21:30 GMTPrompting Stops: Friday, March 18, 23:30 GMT
Posting Starts:
Tuesday,, March 22, 23:30 GMT
Posting Stops:
Tuesday, March 29, 23:30 GMT
Go here to look at the prompts:
http://pbam.dreamwidth.org/5291.html
Go here to post fills:
http://pbam.dreamwidth.org/5608.html
Tags:
roeskva
Latest Month
July 2018
S
M
T
W
T
F
S
1
2
3
4
5
6
7
8
9
10
11
12
13
14
15
16
17
18
19
20
21
22
23
24
25
26
27
28
29
30
31